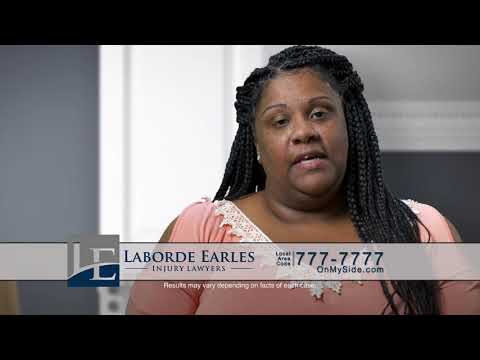 The personal injury lawyer who represents you may also guide you in calculating the types and amounts of your recoverable damages, which may include:
Medical Bills

Income Loss

Property Damage

Pain & Suffering

Emotional Distress

Lasting Disfigurement
Get the Help You Need
Call (318) 777-7777
To Schedule a Free Consultation!
24 hours a day • 7 days a week
Our experienced legal team can assist you in pursuing financial compensation if you have been injured in a car accident in Rapides Parish. With the help of an Alexandria car accident lawyer, you could recover compensation for your losses when your injuries result from another's negligent actions.
If these injuries directly impact your everyday life, you should take the steps necessary to pursue compensation from the legally liable parties. Our personal injury firm can help with your car accident case. Learn more during a free consultation.
Damages Types You Could Recover for a Car Accident in Rapides Parish
Your personal injury attorney may also help you determine what kinds of damages, both financial and otherwise, you may be able to recover as a result of your accident. These may include:
Income loss

Emotional distress

Bills for medical care

Lasting disfigurement

Property damage

Pain and suffering
The financial compensation you could recover in your motor vehicle accident will depend on various factors, including the severity of your injuries and the property damage. If a civil court finds the defendant liable for damages, the judge will order them or their insurance company to pay the plaintiff.
The types and amounts of damages vary by case.
Economic Damages
Economic damages are those with a specific monetary value. These are common and could be awarded even in minor car accidents. Examples of economic damages include:
The costs of replacing or repairing damaged property, including your vehicle

Present and future medical bills for hospital stays, surgical procedures, medications, and physical therapy

Lost income, including wages, benefits, and retirement contributions

Reduced earning potential
Economic damages are relatively easy to quantify using financial documents like pay stubs, tax returns, invoices, bills, and estimates.
Your attorney will gather documentation to prove your economic losses and may also seek analysis and testimony from economic experts who can substantiate the value of your lost future income or adjusted career path.
Non-Economic Damages
Non-economic damages are often challenging to determine without an attorney's assistance. These damages are subjective and may be worth different amounts, depending on the circumstances. A lawyer who handles car accident cases in Alexandria can calculate these damages for you.
Common non-economic damages include:
Pain and suffering

Mental anguish

Physical injuries or impairment

Shortened life expectancy

Disfigurement

Loss of consortium

Diminished quality of life
Proving Non-Economic Damages
To establish non-economic damages, a car accident attorney in Alexandria will gather evidence to prove:
The accident severity

The extent of your injuries

The physical, psychological, and financial impact of the accident
They may use photos or videos from the accident scene, images and X-rays of your injuries, medical records, and testimony from surgeons, physicians, and psychological therapists.
An experienced attorney can calculate your non-economic and economic damages to give you a complete picture of your case's worth. Having a case value informs your decision on how much compensation to pursue. In addition, it helps you determine if an insurer's settlement offer is too low.
Wrongful Death Damages
You could recover damages for wrongful death if your loved one passed away from injuries resulting from a car accident in the Alexandria area. If we pursue your case and win these damages on your behalf, you could receive payment for:
Your family member's burial, funeral, or cremation costs.

Final medical expenses.

Lost income if they supported your family financially.

Pain and suffering they endured before passing away.

Loss of companionship and emotional support.
Damage Caps in Louisiana
It is important to note that plaintiffs are not subject to damage caps or limits for car accident awards in Louisiana. As such, courts are free to determine what they believe is a fair award for the plaintiff without the constraints of a damage cap.
This allows our attorneys to seek the full value of the losses you sustained due to your car accident. Although we cannot guarantee a specific result, our attorneys will fight for your right to fair compensation for all the losses you incurred, both economic and non-economic.
With more than 100 years of collective experience, our attorneys have the knowledge and resources to establish a substantial claim for your Alexandria vehicle crash injuries.
How Working With a Car Accident Lawyer From Our Alexandria Team Can Help
Recovering from a car accident can take considerable time as victims heal from their injuries. You may feel overwhelmed by the stress of physical recovery, psychological trauma, and financial hardship. Seeking legal action to hold the responsible party accountable for an accident puts unnecessary weight on your shoulders.
Our experienced car accident attorneys in Alexandria can take your case on for you, allowing you the space to care for yourself while we handle your legal matters. In addition, our car accident attorneys can save you time, which could be one of the most significant benefits of hiring a personal injury lawyer.
When you become our client, we will:
Investigate your case

and collect evidence that supports your claims of the other party's liability for your accident.

Represent you at meetings

, including negotiations with the at-fault party's insurance companies and legal representatives.

Handle negotiations

to secure a fair settlement that meets your needs.

Complete necessary legal filings

and take your case to court, if needed.
Case Evidence We Can Use
Evidence is a critical aspect of building your case. It can also be the most time-consuming step in the legal process. The evidence we present must prove the person's negligence and can include:
Photographs

Videos

The official police report from officers who responded to the scene

Medical records

Witness statements
We can also file your lawsuit and represent you in civil court if negotiations do not produce a favorable settlement. We will handle essential paperwork and daily correspondence while providing updates on any developments in your case.
We will also explain how state laws apply to your case and how they could impact the outcome.
When you work with our attorneys, you never have to wonder about your claim or lawsuit status. We will keep you apprised of your case status on an ongoing basis, and yours will be the final word in any decisions.
Why Hire Us For Your Alexandria Car Accident Case?
Our legal team has more than two centuries of combined personal injury legal experience. We know what our clients need to recover from the aftermath of a life-changing event. We want to help you get the compensation you are entitled to receive and assist with putting your life back in order.
Over the years, we have established our firm as a force to be reckoned with in Louisiana personal injury cases. We have recovered more than $200 million in settlements and verdicts for our injury clients in Alexandria and across Louisiana.
We understand that time is of the essence, and speaking with an attorney is crucial immediately after an accident. That's why we have someone available 24/7 who can speak to you about your accident. In addition, we'll offer you a free consultation to tell us more about your accident. This way, we can review your situation and determine if we can help you.
We Can Start Working On Your Case Without Any Upfront Fees
We are a contingency law firm, meaning you pay no upfront fees for us to start work on your case. Our payment is contingent on the outcome of your case. If you receive compensation, payment for our services will come from your settlement or court award. In short, if you do not get paid, we do not get paid.
The Louisiana Deadline in Car Accident Cases
Like other states, Louisiana has a statute of limitations prescriptive period that applies to personal injury claims arising from any injury accident, including car crashes.
According to CC Art. 3492, injury victims only have one year following a car accident to file a personal injury lawsuit seeking maximum compensation for their losses. While it may seem like plenty of time, a year can pass quickly when recovering from a vehicle accident injury.
The statute of limitations can also vary depending on your accident's circumstances. If you fail to file a lawsuit within this time frame, you will lose the right to do so.
Therefore, we recommend hiring a car accident lawyer in Alexandria as quickly as possible. We can explain this deadline more and answer legal issues questions during a free case review.
Compensation for Recoverable Damages in an Alexandria Vehicle Crash
The amount of compensation injury victims can recover in car accident claims depends on the nature, severity, and expected duration of their injuries.
Eligible expenses for compensation may include medical bills, lost wages, and compensation for permanent disabilities. With the assistance of a car accident lawyer in Alexandria, plaintiffs in Rapides Parish could recover compensation for all their losses related to an accident.
How Will I Get Compensation?
You will receive damages in one of two ways: a pretrial settlement or a jury award.
A pretrial settlement is often the faster, easier way to get money following an accident. You can get a settlement by allowing us to sit down and negotiate with the liable party's insurer. Then, once we reach an agreement and you sign it, you get your compensation.
A jury award is money given to an accident victim by a jury of their peers at a courtroom trial.
We generally only take a case to court if the insurance company refuses to offer a fair settlement. However, insurers readily negotiate in most cases as it is less expensive than going through a trial.
When Will I Get Compensation?
It is natural to wonder how long it will take to get your money, especially as you struggle to pay bills or support your family following your crash.
The amount of time it takes to secure a settlement or jury award depends on factors such as:
The insurer's willingness to cooperate

How long it takes to identify the at-fault party

If we find multiple liable parties
How We Will Help You After an Accident
No matter how long it takes, we always:
Fight to get clients the largest possible settlement in the shortest time.

Provide clients with regular updates about their case status.

Explain our clients' rights, responsibilities, and options in accessible terms.

Help clients make informed decisions about how to handle their cases, including whether to accept a settlement offer.

Make ourselves available to answer client calls, take their questions, and address new developments.

Care deeply about our clients and do everything possible to make their experience as stress-free and straightforward as possible.
Proving Liability for Your Alexandria Accident
To proceed with an injury claim, your attorney must establish who was at fault for the accident. The legal theory of negligence is the basis of most personal injury claims arising from car accidents. Negligent drivers typically fail to act as a reasonably safe driver would under similar circumstances.
One strong indicator of negligence is the failure to abide by traffic laws. For instance, if drivers fail to stop at a stop sign or traffic light, this might be strong evidence of negligence in a personal injury case.
Your lawyer will compile evidence to try and prove the other party was mostly or fully responsible for the accident.
The evidence we may use to prove fault includes photos, videos, witness statements, and expert accident reconstruction. Since Louisiana bases settlement value on comparative negligence, evidence of fault is especially critical for your claim.
Comparative Negligence
Even if you were partially at fault for the accident that led to your injuries, you could recover compensation from other parties who also share in the blame. Louisiana's pure comparative negligence statute (CC Art. 2323) decreases the compensation injury victims can recover by a percentage equal to their degree of negligence.
Therefore, if injury victims qualify for damages but are 25% at fault for an accident, they would recover only 75% of their total damage award. However, unlike other states, there is no upper limit to how much responsibility an Alexandria plaintiff may bear before being barred from recovering entirely.
An Alexandria car collision lawyer will have a thorough understanding of the calculations used for comparative negligence. We will help you obtain the necessary evidence to defend your right to a fair settlement.
Determining Which Driver Is at Fault in Automobile Crashes
In Louisiana, the at-fault driver is responsible for any harm they caused in a collision. If the driver has car insurance, their insurance company might cover the losses up to their policy limits.
You can speak to a car accident lawyer in Alexandria before dealing with an insurance company. An attorney can help you value your damages and fight for the compensation you deserve.
Why Hire An Attorney To Deal With Insurers?
When someone causes an accident, their insurance company often must shoulder the financial burden of their negligence. However, insurers do not want to pay any more than necessary. Therefore, they may do everything possible to reduce the settlement you receive, including:
Interpret evidence in a way that makes you look guilty, thus reducing how much you can recover under the state's comparative negligence rules

Ask you to give a recorded statement, then scrutinize it for inconsistencies or inadvertent admissions of guilt

Offer you an insufficient settlement and urge you to accept it immediately, perhaps implying that you will not get a better offer

Hire lawyers to intimidate you into taking a lowball offer
If an insurance adjuster or attorney tries to contact you, you do not have to reply immediately. Instead, you can retain an attorney from our firm.
We will manage communications with insurance companies on our client's behalf, protecting them from predatory tactics and giving them more time to recover in peace.
Minimum Car Insurance Coverage Drivers In Louisiana Must Carry
As per RS Art. 32:863.1, drivers must have automobile insurance and provide proof of such coverage when law enforcement officials ask. Page 4 of the Louisiana Department of Insurance's Consumer's Guide to Auto Insurance outlines the minimum amounts of liability insurance coverage that drivers in Rapides Parish must carry:
$15,000 for bodily injury to one person

$30,000 for total bodily injury

$25,000 for property damage per accident
Drivers who do not have automobile insurance coverage may face tickets and fines and be held personally liable for the damage they cause.
An Attorney At Laborde Earles Injury Lawyers Can Help You
Get advice about any potential personal injury claims you have following a crash by contacting a lawyer from Laborde Earles for help. An experienced car accident attorney in Alexandria will review your case and explain your legal options.
We can also help you determine who is at fault in a crash, calculate your damages, and negotiate with insurance companies on your behalf. Contact us today for a free consultation with a team member.