Office Information
Address
Laborde Earles Injury Lawyers
100 Versailles Blvd Suite A,
Alexandria, LA 71303, United States
24/7
Phone:
+1 318-777-7777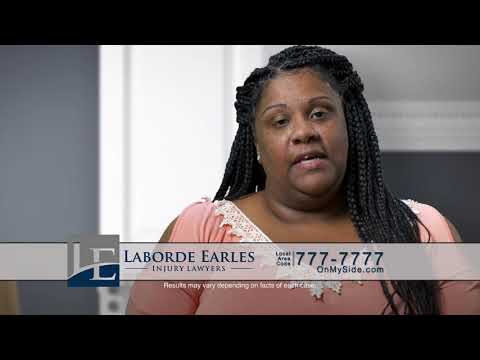 The personal injury lawyer who represents you may also guide you in calculating the types and amounts of your recoverable damages, which may include:
Medical Bills

Income Loss

Property Damage

Pain & Suffering

Emotional Distress

Lasting Disfigurement
We're On Your SIDE
Call +1 318-777-7777
To Schedule a Free Consultation!
24 hours a day • 7 days a week
According to the Louisiana Department of Insurance, vehicle crashes are on the rise, and plenty of workers are injured on the job here in the Bayou State. From dog bites to trucking accidents to drunk driving, Louisianans are injured every day, often through no fault of their own. If you or a loved one has been hurt or killed and you weren't at fault, you have rights under the law.
Working with a personal attorney in Alexandria can help you obtain much-needed compensation so you can focus on recovering from your injuries. While financial compensation cannot return you to the state you were in before the accident, it can help pay for bills. An experienced personal injury lawyer from Laborde Earles can answer your questions about settlements.
Cases We Handle
Our personal injury attorneys in Alexandria, LA, handle the following types of personal injury claims:
If you've been injured due to someone else's negligence, a personal injury lawyer can tell you more about your options and evaluate your potential claim.
Why You Should Talk to a Personal Injury Lawyer Before You Talk to Insurers
Having an Alexandria personal injury attorney represent you shows insurers that they aren't going to be able to trick you into signing away your rights in exchange for a quick settlement. What is the first sign an insurer will give you that they want you to settle for less than you deserve? They will pretend to care and try to convince you that you don't need a lawyer.
Insurance company adjusters are representatives of their employers, and holding onto profits is their main concern. The less they can give you, the more they can keep for themselves. Our lawyers are experts in Louisiana law, and we fight to get you fair compensation.
What a Personal Injury Lawyer
Needs to File Your Claim
Under Louisiana law, you must prove the negligence of the other party in order to bring a successful personal injury claim. In order for your Alexandria personal injury lawyer to file a claim, we must prove the following elements:
The defendant owed the victim a duty of reasonable care
The defendant breached that duty of care
The breach was the proximate cause of the victim's injuries
The victim suffered physical injuries
Obtaining experienced legal counsel can help you hold the at-fault party liable for the accident victim's injuries. If the at-fault party caused your injuries but you got stuck with the bills, a personal injury lawsuit will hold them accountable.
How a Personal Injury Lawyer
Proves Negligence
In Louisiana, injured individuals are allowed to seek compensation for their damages from the at-fault party. However, a jury cannot render a verdict in favor of the plaintiff unless your personal injury attorney can prove negligence. To do this, we must establish the following elements.
Duty of Care
First, your Alexandria personal injury attorney must establish that the defendant had a duty to act with care and caution to prevent danger. For example, a doctor owes their patients a duty to provide adequate care, drivers owe everyone on the road a duty to drive carefully, and property owners owe a duty to keep their land safe for visitors.
Breach of Duty
When a party or entity fails to act reasonably to prevent danger, they may have breached their duty of care. However, a breach of duty does not automatically mean your lawsuit has merit. There are still other elements that your lawyer will need to meet in order to be awarded compensation.
Causation
In order to show causation, your attorney must prove that your injury was avoidable. You need evidence that the defendant did not fix, maintain, or properly warn you of any potential dangers.
Damages
Finally, the plaintiff must have incurred damages, economic or non-economic, from their injury. As your attorneys, we will present the at-fault party's insurers, their lawyers, a jury, and a judge with evidence that will prove your damages.
How a Personal Injury Lawyer
Will Prove Fault
Individuals who are partially responsible for their accident can still recover compensation from the at-fault party according to Louisiana Civil Code (CC) §2323. The name of this law is "comparative fault," and it affects any personal injury claim.
If you are partly responsible for your accident, the compensation you receive for your damages will get deducted on a percentage based on how much of the accident was your fault. For example, individuals who are 40% at fault for the accident would only recover 60% of their damages.
How Long Does a Lawyer Have to File
a Personal Injury Claim?
Louisiana has a much shorter statute of limitations for personal injury claims compared to other states. Your personal injury lawyer in Alexandria must file your claim before the statute of limitations is up.
Under Louisiana CC §3492, injury victims have one year from the date of the accident to file a personal injury claim. If you fail to meet the deadline, your attorney can no longer pursue compensation for your damages.
Damages Your Lawyer May Claim
on Your Behalf
Damages are either physical, psychological, or financial. When you file a personal injury lawsuit, your attorney will most likely pursue compensation for all three types of damages.
The most common damages resulting from an injury include:
Loss of companionship
Loss of consortium
Past and future medical bills
Property damages and vehicle repair
Lost wages and reduced earning capability
Pain and suffering
Mental anguish
Loss of enjoyment of life
Our team of Alexandria personal injury lawyers can assist with all types of personal injury claims and workers' compensation claims. We can assess all of the damages in your case and help you get a settlement that properly covers your physical, psychological, and financial losses.
How Much Does a Personal Injury Lawyer
in Alexandria Cost?
Don't let the fact that you don't have a lot of money right now stop you from filing a lawsuit. We get it. When you're missing work and your medical bills are mounting, the last thing you can afford is attorney's fees. The Louisiana personal injury lawyers at Laborde Earles work on a contingency basis. That means you don't pay until your case has concluded.
When Do I Need to Get an Alexandria
Personal Injury Lawyer?
To get an attorney to handle your personal injury claim in Alexandria, Louisiana, the only thing you'll need to do is set up a free consultation with a lawyer at Laborde Earles. We will review your evidence and make recommendations based upon the facts of your case. If we believe we can help you out, we will fully commit to getting you the highest possible settlement.
Let an Alexandria Personal Injury
Attorney Help
Do not pay for the damages someone else was responsible for. Hold the at-fault party accountable and seek compensation for your injuries by contacting a personal injury attorney for advice. Before you accept any settlement offer, seek legal counsel first to ensure you are getting an amount that truly reflects the damages you have suffered.
Concentrate on recovering your physical and emotional health. Our team of personal injury lawyers in Alexandria can assist you through this challenging time and help you get compensation. We will negotiate with the insurance companies and fight your case in court. Call today to schedule a free consultation to learn more about all of your legal options.